Women's bathrobe size guide 1
---
Measuring tips to assure the best fit of your bathrobe
Shoulders. Back (Standard) width. Think of a line going from your armpit straight upwards to your shoulder. Measure between those two points and hold the tape measure straight. If you are wearing a dress shirt that fits your upper body correctly, you can use it as a guide. The shoulder seams on the back of your shirt will usually match up with your actual shoulder points.
Sleeve length
Measure the length from the top stitching on the shoulder to the bottom of the wrist. Aim for hitting your wrist bone with the measuring tape. Be careful not to measure too high above the wrist, or the dress shirt's sleeves will come to be too short.
Full length
To determine the length of the robe you need measure from the collar to bottom edge (end of the robe). If you specify the desired length of the product in the message (from collar to bottom edge), we will revise it personally for you.
---
Sizing
| Size | Shoulders inches | Shoulders centimeters | Sleeve length inch/cm |
| --- | --- | --- | --- |
| XS | 12,9 - 13,7" | 33-35 cm | 21,3" / 54 cm |
| S | 14,1 - 14,9" | 36-38 cm | 21,3" / 54 cm |
| M | 15,3 - 16,1" | 39-41 cm | 22" / 56 cm |
| L | 16,5 - 17,7" | 42-45 cm | 22.8" / 58 cm |
| XL | 18,1 - 19,2" | 46-49 cm | 23,6" / 60 cm |
If you still have any questions, please contact our customer service.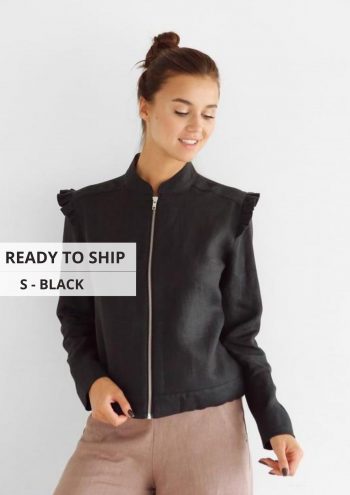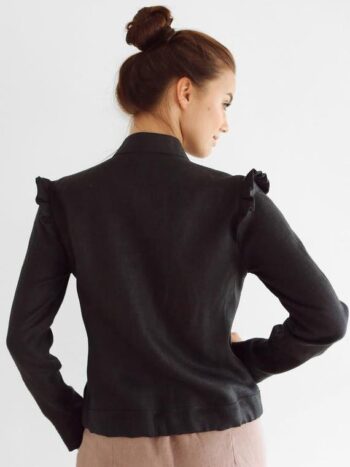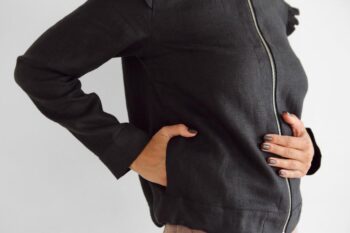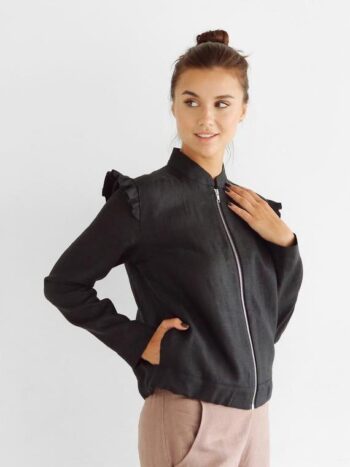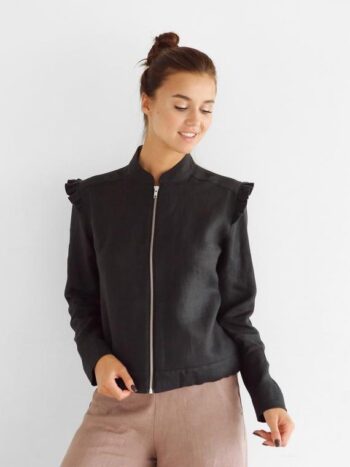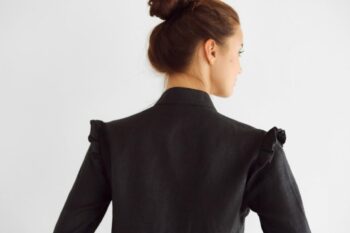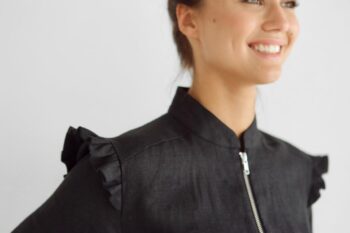 READY TO SHIP Women's linen bomber
87$
Comfortable Linen Bomber
All sizes and color options see via this link: https://blackficus.com/product/womens-linen-bomber-late
Ready to ship
S – Black
Color in the photo: Black
Comfortable and stylish women's linen bomber is perfect for hot summer days. This bomber is versatile, cozy and comfortable for outdoors as well as at home.
Our customers say on Etsy.com
Size Guide
Description
The cut of our clothes coined so that it can look appropriate, both on the street and at home.  Elegant and comfy linen cardigan makes a luxurious and functional gift for that special woman in your life. We have tried to make a cardigan that makes women feel attractive and sexy.
Additional information
| | |
| --- | --- |
| Сomposition | Made from 100% Linen |
| Bomber length | For all sizes 22,8" / 58 cm |
| READY TO SHIP | S – BLACK |